U.S. Department of Energy Plans An Accelerated Dependence Upon Foreign Petroleum Sources
On a planet where fossil fuel use is a major polluter and known cause of disease, the present US government intends to more than double its consumption of fossil fuels in the next 25 years. By then the world's reserves of fossil fuel sources should be depleted. During this 25 year period other countries will continue to shift to non-fossil fuel sources. By then the US fuel situation will be very bleak barring a miracle of science. It seems that current "planning" thus will not only is based on such a miracle, but also ensures a widespread increase in pollution, health problems, and dependence upon foreign sources of oil and natural gas -- a policy which is widely criticized by long term planners such as the Greens.
In 2001, vice president, Dick Cheney, chaired the Energy Policy Board whose responsibility was to plan America's future energy direction. Immediately before accepting nomination as vice president, Cheney, was previously involved with the petroleum industry and Enron Corporation in his job at Haliburton. After six meetings with Enron officials (as "consultants"), Cheney refused to disclose the minutes of the meetings to the public, to the congress as requested, and even to the extreme of refusing the US Government Accounting Office (GAO) access (whose responsibility it is to provide such minutes to the Congress. Even under threat of a suit by the GAO, he still refused. Now we can see what Cheney was hiding.
After former vice president, Dick Cheney, finished his meetings with Enron and other petroleum related corporations we have learned that the 25 year energy plan will depend heavily upon an increased use of imported petroleum and natural gas products. Where did the administration imagine that they would ascertain such? You betcha, through the Afghanistan pipeline being built by Unocal and via Iraq, the new US satellite.
In this 25 year plan, there exists a huge increase in the use of petroleum, coal, and natural gas. What would be the effect on global warming and the environment? Oh, yes, Cheney forgot to consult with environmental scientists. Oh well, no one is perfect.
The Energy Information Administration, a statistical agency of the U.S. Department of Energy, expects total energy consumption to increase far more rapidly than domestic energy production through 2025 (Fig. 5).
As a result, net imports of energy are projected to meet a growing share of energy demand. Projected U.S. crude oil production will drop an average annual rate of 0.4% between 2001 and 2025. Total domestic petroleum production will increase from 7.7 million barrels per day in 2001 to 8 million by 2025, due to an increase in the production of natural gas plant liquids. Both domestic coal and natural gas production will see an increase over the next two decades, but the United States will continue to depend on imports to meet the rising energy demands.
Fig. 2 depicts energy consumption projections by fuel type through 2025. Where Europe is depending more on alternative non-polluting sources of energy, the US projection shows almost no increase in alternative clean fuels such as solar, wind, hydrogen fuel cells, small hydro, etc. In addition the huge potential to save fuel expenditure through co-generation and energy conservation measures (which is a kind of energy mining by reducing consumption) were not factored in.
Energy Information Administration, Annual Energy Review 2001, DOE/EIA-0384(2001) (Washington, DC, November 2002). Projections: Table A1.
The above chart discloses that given the current plan our net energy imports from foreign sources will have to more than double over the next 25 years creating a huge dependence upon foreign oil and creating a huge deficit of trade, despite an increase in domestic energy production (mostly in increased coal production). Domestic production of peritoneum will decrease (except that a new process liquefying natural gas to petroleum, is expected to insignificantly increase overall total domestic petroleum production. By 2025 the world's overall petroleum resources should dwindle to near non-existent levels and new energy sources will have to be obtained in any case. .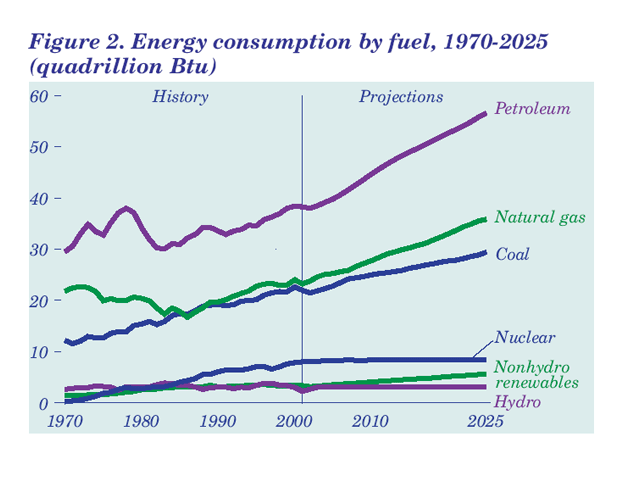 Energy Information Administration, Annual Energy Review 2001, DOE/EIA-0384(2001) (Washington, DC, August 2002). Projections: Tables A1 and A18.
So while US coal and natural gas production and consumption rises (mainly to provide more electricity for industry), petroleum consumption will more than double (it's source being the Middle East).
Lastly, it is planned that US domestic energy production such as electricity will become more dependent upon the most polluting of all energy sources, coal, for the most part in order to provide new industry demand for electricity. The second largest increase in domestic energy production will be for natural gas, also mainly due to expected demand for electricity in natural gas powered electrical turbines. The planned use of renewables such as solar, wind, biomass, hydrogen, and hydro will remain approximately at 2002 levels.
Energy Information Administration, Annual Energy Review 2001, DOE/EIA-0384(2001) (Washington, DC, November 2002). Projections: Tables A1 and A18.

"It is noteworthy that Vice President Dick Cheney, as former CEO of the oil-services company Halliburton, is also a veteran of the American oil industry's presence in the Caspian basin. Cheney met as recently as last spring with many of these companies, including Unocal, whose oil investments in the Caspian basin are now languishing. With almost $30 billion already invested by US oil companies in Kazakhstan, Turkmenistan, Uzbekistan and Azerbaijan, the Afghan pipeline route would cost only one-half the amount of the other alternative which would run through Georgia to Turkey's Mediterranean coast.

Unocal was part of a consortium that had proposed to build a pipeline from fields in Turkmenistan to markets in Pakistan. That line would have crossed Afghanistan. 'We officially withdrew from that proposed consortium in December 1998 because of many unresolved issues related to the Taliban,' according to Unocal's senior spokesman Barry Lane.

As early as October 1995, Unocal Corp and Delta Oil Co of Saudi Arabia inked an agreement with Turkmenistan that was destined to open new markets in Pakistan. The agreement with Turkmenistan involved a detailed plan to develop an oil pipeline from Turkmenistan through Afghanistan to a crude oil export terminal and or refineries in Pakistan on the Indian Ocean. This trans-Afghan pipeline would be engineered to transport crude oil from fields inside Turkmenistan and from the surrounding region.

Almost two years later, in the fall and early winter of 1997, numerous meetings and dinners were held with several ranking Taliban members who traveled to Unocal's corporate offices in Texas to explore this pipeline plan. The Taliban and Unocal were hoping to build a $4.5 billion pipeline network to transport Caspian Sea oil and gas across Afghanistan to the Indian subcontinent. But the position was radically reversed in August of 1998 after the US missile strikes ordered by the Clinton administration hit Afghanistan. A corporate communications release stated that 'Unocal will only participate in construction of the proposed Central Asia Gas Pipeline when and if Afghanistan achieves the peace and stability necessary to obtain financing from international lending agencies for this project and an established government is recognized by the United Nations and the United States'.

As part of its initial Taliban pipeline courtship, Unocal conservatively spent $20 million and donated more than $1 million to various Afghan charities. The Texas oil company's lobbying efforts included providing testimony in Washington on a cold wintry morning in February 1998. Unocal's vice president for international relations John Maresca appeared before the House Committee on International Relations in Washington to state its case for multiple pipeline routes for Central Asian oil and gas. Almost four years later, there is a major reshuffling of the petro-political stakes and perhaps in the necessary and costly battle for energy dominance and stability, courtesy of the resurrected trans-Afghan pipeline blueprint.

As part of Afghanistan's pipeline political recovery, some in Washington questioned President George W Bush's new appointment of Zalmay Khalilzad, a former Unocal consultant, as his special envoy to Afghanistan. This is the same consultant who once served as Unocal's point man assisting with the energy company's earlier plans to build a pipeline through Afghanistan. Coinciding with this appointment, a recent Reuters release stated that Afghanistan hopes to strike a deal by the end of May to build a $2 billion pipeline through the country to take gas from energy-rich Turkmenistan to Pakistan and India. Karzai is scheduled to hold talks with his Pakistani and Turkmenistan counterparts later this year on Afghanistan's largest foreign investment project, according to Afghan Minister for Mines and Industries Mohammad Alim Razim.

According to Razim, Unocal is still considered the 'lead company' among those that would build the pipeline, which would bring 30 billion cubic meters of Turkmen gas to market annually. Unocal, which led a consortium of companies from Saudi Arabia, Pakistan, Turkmenistan, Japan and South Korea, had previously maintained the project is both economically and technically feasible once Afghan stability was secured.

Back on Capitol Hill, energy companies and numerous consultants are weighing in on whether the former CEO of Halliburton, Dick Cheney, will yield to a formal demand from a Congressional inquiry. In an unprecedented move against a sitting vice president, the investigative arm of Congress filed a suit in federal court last week challenging Cheney's refusal to hand over documents related to national energy policy. Some observers have speculated that these newest developments may actually lead to an Enron investment trail in Central Asia."

Extracted from WASHINGTON WATCH: US's Afghan aid package fuels pipeline politics By James Borton - Click to see entire article

Energy Dept. Ordered To Release Documents
7,500 Pages Involve Work of Cheney Panel
By Dana Milbank and Ellen Nakashima
Washington Post Staff Writers
Thursday, February 28, 2002; Page A01
© 2002 The Washington Post Company
A federal court ordered the Bush administration's Energy Department to turn over 7,500 pages of documents related to Vice President Cheney's energy task force, a decision that would make public for the first time detailed information about the influence of industry executives and others over the administration's energy policy.

The court order, from Judge Gladys Kessler of the U.S. District Court in Washington, requires the Energy Department to turn over by March 25 documents indicating the contacts between outside groups and dozens of department staffers working on Cheney's interagency task force.

The order made public yesterday is in response to a suit by the Natural Resources Defense Council. It is unrelated to the suit filed against Cheney this month by the General Accounting Office, the investigative arm of Congress. That suit, which is continuing, seeks information related to contacts between outside groups and all administration officials, including those in the White House, working on the task force.

The court order to the Energy Department will provide the first significant public disclosure of the activities and contacts of the energy task force. The NRDC expects it will receive most of the information sought by the GAO, which could defuse the battle between Congress and the administration.

The environmental group sued the Energy Department because it is not permitted under law to sue the White House. The Energy Department has turned over some of the same information to the GAO, but the GAO has not released it.

The judge declared that 'there can be little question that the Department of Energy has been woefully tardy' in responding to the NRDC's Freedom of Information Act (FOIA) request. The NRDC filed the current suit in December after eight months of requests for the information produced only 33 documents -- a release the order called '"virtually meaningless.'

'In addition to having no legal, or practical, justification for working at a glacial pace on plaintiff's FOIA request until suit was filed in December, the material which plaintiff seeks is of extraordinary public interest,' the judge wrote. 'The subject of energy policy, especially since the terrible events of September 11, 2001, is of enormous concern to consumers, to environmentalists, to the Congress, and to industry.'

The Senate begins to debate energy legislation this week. The House has passed its version, based in part on the recommendations of Cheney's task force.

The Energy Department said it would comply with the order. 'We've always said we would comply with it, and we are working diligently to do so,' spokeswoman Jill Schroeder said.

It remains unclear exactly how much the Energy Department will relinquish. In the case of the GAO, the department withheld certain information, saying the GAO would have to ask the White House for the rest. The judge gave the Energy Department discretion to postpone some releases until April 10 and make claims to withhold others by April 25.

The NRDC believes the documents will show that the Bush administration met secretly with industry officials over a period of time. If that is the case, NRDC Senior Attorney Jon Devine said, the administration violated another law requiring that such meetings be open to the public and detailed minutes be kept. The Federal Advisory Committee Act also requires balanced membership. The public did not have the same level of access to the task force that reports have suggested big business did, Devine said.

'Justice is finally served,' said Sharon Buccino, an NRDC lawyer. 'This is going to expose the Bush energy plan for what it is -- payback to polluters.'

Eleven other groups have made similar FOIA requests of the Energy Department. Judicial Watch, a legal watchdog group that has also filed a lawsuit against the administration, has a pair of hearings today in U.S. District Court in Washington on its case.

The 2,100 documents sought by NRDC, totaling 7,500 pages, include letters and memos sent from groups and companies to Energy Department officials working on the task force. There are also some internal e-mails and memos, but nothing related to the task force's deliberations. Kessler's court order is dated Feb. 21, but the NRDC said it received its copy of the order yesterday afternoon.

The documents may not indicate the full range of influence on the energy task force. Before its collapse, Enron Corp. officials met six times with the task force, the administration has disclosed. But it is possible that because of its high-level contacts with Cheney, the company never approached Energy Department officials.

The Freedom of Information Act, passed in 1966 and amended several times, gives citizens the right to petition for information. There are nine exemptions by which agencies can withhold information, including the protection of national security, trade secrets, deliberative process and personal privacy.
Report of the National Energy Policy Development Group May 17, 2001
The Bush Administration and Gas Prices
US's Afghan aid package fuels pipeline politics: the complete article by James Borton from Asia Times On-line
To Green and Healthy Politics: The Power and Politics of Consciousness